The Flavor Files Holiday Gift Guide🎄
Gifts to Spoil Your Favorite Cooks (and yourselves)
Hi Friends,
Now that Thanksgiving is out of the way, it's time to think about my favorite holiday of the year, Christmas. Welcome to my Holiday Gift Guide for The Flavor Files. I'm sharing my favorites this year, and there's something here for everyone. I hope you find a few gifts on this list.
The Flavor Files is a reader-supported publication. To receive new posts and support my work, consider becoming a free or paid subscriber.
Books
The Flavor Equation
It feels odd to list my book, but I'd be thrilled and grateful if you considered gifting a copy of The Flavor Equation, my second cookbook. It makes a lovely gift for curious cooks and people who want to know more about the science of flavor and how we interact with it. Renowned Italian artist Matteo Riva illustrated the art in the book, and I've styled and photographed the photos. The book is available in several different languages as well as in audio format on Audible. Signed copies of my book are available through Now Serving L.A. (and they ship).
Terrain: The Houseplant Book by Melissa Lowrie
For those of you who've followed me for a while, you might know that I love to dabble in gardening. As I eagerly await the completion of my office to introduce some new house plants and turn the space into a "greenhouse," this book, with its detailed, in-depth knowledge, has enthralled and given me lots of ideas. This is a beautiful guide to the world of house plants and one that I've learned so much from and can't put down. 
Kitchen Stuff
The Staub 5-quart Tall Cocotte
I love this Dutch oven/cocotte, and it's now the pot I use the most. Its extra height helps prevent spills during frying, stirring, sautéing, etc., reducing kitchen clean-ups. There are lots of colors to choose from.
The Breville Joule Oven Air-Fryer Pro
As some of you might know, I am an ambassador for Breville's new smart oven and am also in the first season of their cooking show on Chef Steps. While my kitchen underwent a big facelift last year, I was working on my third cookbook (it will be out sometime in 2023), and the oven I tested every recipe on was my Breville smart oven. The results were always perfect, and when I retested them in the new oven in my kitchen, I was impressed with the consistency and quality. The Joule smart oven also comes with an app (it guides you step-by-step), and you can find a few of my recipes in it.
The Oxo Y-Shaped Peeler
A good peeler is a game changer, and this makes an excellent stocking stuffer and is the gift that keeps on peeling (pun intended). Besides peeling, I also use it to finely shred cabbages for salads.
Oxo Good Grips Large Salad Spinner
A good salad spinner is worth its weight in gold. I use mine to wash and dry salad ingredients and vegetables for cooking, and the big bowl doubles as a crisper for storing vegetables in the refrigerator. There are lots of options to choose from; pick your favorite.
Bulka Banneton
I've got two of these brotform/bread proofing baskets, an oval and a circular one, and use the. They're made from packed spruce wood pulp, easy to clean and maintain, and an excellent gift for sourdough bakers. Because of how they're made, they don't splinter and warp over time.
The Jali
Traditionally, this jali (net) is used for cooking, toasting, and reheating Indian flatbreads like rotis directly over a gas stove. It's also an excellent tool for toasting tortillas. Jalis are sold in circular and square shapes, I like the circles, but either works great.
Sonos Move
Technically, this isn't a kitchen tool. Still, I keep mine in the kitchen as I can't focus properly without music or television running in the background while working on a recipe, photographing, and writing my cookbooks. A year ago, I picked up a Sonos Move, and it's been my constant companion, and the sound quality is excellent. I can take it around the house and in the garden and listen to my favorite songs and podcasts. I love how durable and sturdy it is, which is necessary since I am a little clumsy.
Edible Holiday Gifts
From Roy's
This Christmas is extra special, my mom is coming to visit, and I haven't seen her in more than three long years. We both love Christmas, and this year my goal is to make her taste some of the foods she hasn't tried, one of them being panettone. I love the panettone made by From Roy's, and last year, Michael and I accidentally surprised each other with panettone from this wonderful bakery and ended up gifting the extras. This year, From Roy's, is on our gift list for my mom, and I am excited to see what she thinks of it. I've also set a personal goal to attempt making one, but if it fails, we have From Roy's to save us.
For the Spice and Condiment Lover
The strength of a kitchen lies in the pantry. Good spices and condiments are your most powerful assets in the kitchen.
For Indian achaars and condiments, check out Brooklyn Delhi. Michael and I love their achaars, and we always have an extra stash hidden away.
For Middle Eastern Spices and Condiments, go to the New York Shuk. I love their preserved lemons and spice blends.
For Spices, I stock all my spices from Oaktown Spice Shop in Oakland. They're one of the best, and the quality is always spot-on.
Edible Grade Essential Oils
If you're looking for high-quality edible-grade essential oils for your baking, go to Atelier Perfumes. They have a large selection of edible-grade essential oils that you can use for your baking needs. A tiny drop goes a very long way!
A Little Pampering
It's not a question I expected on Instagram, but this year, I received a lot of questions on Instagram about my skin and beauty care routine. I try to drink plenty of water and squeeze in as much sleep as I can, but I also take help. Here are some of the go-to products (I think every home cook needs a little pampering and love) that I keep on hand and travel with.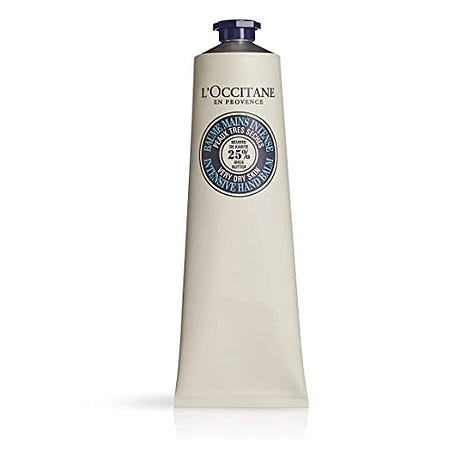 L'Occitaine Hand Balm
A friend introduced me to this wonderful hand cream a few years ago. It's been a loyal friend, and unlike many other hand creams, it doesn't feel greasy on my palms.
Ranavat
I've fallen in love with my new favorite body care and beauty products and can't get enough of them. The Brightening Saffron Serum and the Regenerative Veda Bond Complex Shampoo and Conditioner are now essentials in my daily routine. Did I mention how wonderful their products smell?  
La Roche-Posay Eye Cream
When I don't get enough sleep due to my rambunctious cats or when I'm traveling, this eye cream has helped reduce the puffiness under my eyes and saves me.
Gift A Subscription
And finally, please consider donating a gift subscription to The Flavor Files newsletter to a loved one who you think would enjoy this newsletter.
I appreciate your love and support. Thank you!
(Keep an eye out for my upcoming favorite cookbooks of 2022.)
---
🎄🎄🎄
Nik